St. Joseph chiropractor discusses how kinesiotaping helps the body
What is Kinesiotaping?
Kinesiotaping is a process by which a specialty adhesive tape which contains elastic properties is used to help the body support its own natural healing process. Kinesiotape helps to stabilize and support muscles, ligaments, tendons, and joints without restricting the body's natural range of motion. Kinesiotape is also latex-free, mostly waterproof, and can be worn for days after it is applied. One of the biggest benefits doctors find in using kinesiotape is that it is a safe treatment for patients of any age.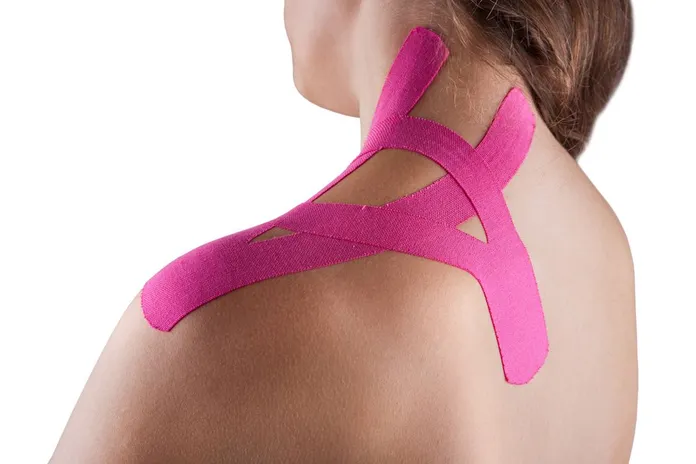 Why do chiropractors use Kinesiotape?
One of the main reasons chiropractors use kinesiotape is to help extend the effects of spinal manipulations and other adjustments. Because kinesiotape allows for the stabilization of joints and muscles without restrictions in regards to patient movement, kinesiotape makes it a viable solution in many chiropractic offices. With the proper training on how to place the kinesiotape, our chiropractor has learned how to provide patients with the greatest level of comfort for greater periods of time. Another reason chiropractors use kinesiotape is because of the benefits it affords the lymphatic system. The practice of using kinesiotape not only helps to improve muscle performance, prevent further injury, and help promote better circulation and healing, it also helps to reduce inflammation which can be the main source of pain for patients.
What conditions does kinesiotape treat?
Because there are hundreds of ways kinesiotape can be applied, it can be used to treat a host of conditions. The use of kinesiotaping is well known in the sports community, as it is commonly used to treat sports-related injuries. Kinesiotape is also used to help geriatric patients manage degenerative joint pain. Here at St. Joseph Chiropractic, our doctor uses kinesiotape to help treat conditions relating to the following: muscle strains, tennis and golfer's elbow, carpal tunnel syndrome, plantar fasciitis, shoulder problems, knee pain and more.
Contact our chiropractor in St. Joseph, MO, to schedule an appointment today!
If you are someone that suffers from frequent, chronic pain there are ways we can help you. Pain can reduce your quality of life, however, here at St. Joseph Chiropractic, we can provide you with options to make sure you live your best life possible. Give us a call TODAY at (816) 279-0700 to schedule an appointment to learn how we can help you say goodbye to your pain!