Non-Surgical Solutions for Your Low Back Pain from Our St. Joseph Chiropractor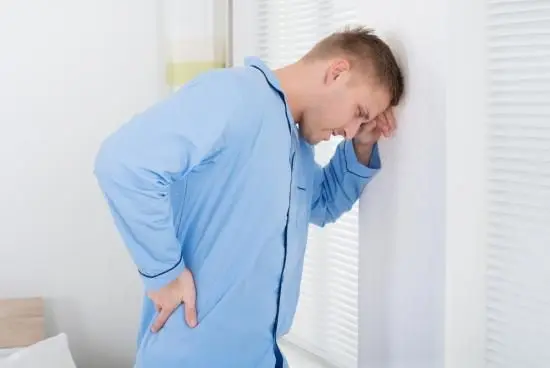 Low back pain can interfere in every aspect of your daily life, from working or running errands to simply trying to relax in a chair or sleep at night. There's very little you can do when you're disabled by this kind of condition -- but fortunately, there are plenty of things you can do about that condition, none of which involve major surgery or heavy painkilling drugs. Our chiropractor at St. Joseph Chiropractic, Dr. Mattox, can discover the root cause of your pain and prescribe natural, non-surgical treatments to help you overcome it.
Possible Reasons for Low Back Pain
There are many possible reasons for low back pain. The complexity of the spine, with its arrangement of vertebrae, vertebral discs, nerve tissue and supporting muscles, invites any number of potential ailments and injuries. Some injuries to the lower back are sudden and acute in nature -- a hard football tackle, auto accident impact or fall from a roof, for example, can knock the vertebrae and their interconnecting facet joints out of their normal alignment to produce pain and stiffness. Herniated discs often accompany such acute injuries. A herniated disc in the lower back can be very painful, especially if the inner material that bulges out of it inflames and compresses the sciatic nerve roots. This can lead to both low back pain and the leg pain, tingling or weakness known as sciatica.
Back pain can also be many years in the making. Age-related degenerative problems such as spinal stenosis and spondylolisthesis can put the squeeze on spinal nerve tissue in the lower back. Aging discs that have lost water content may also lose height and bulge outward, straining the facet joints and possibly causing them to develop arthritis. These changes can affect both spinal alignment and posture, putting an unequal burden on major muscle groups and leaving you with chronic muscle spasms.
Conservative Care Options From Our St. Joseph Chiropractor
Whether your back pain hit you overnight or over time, our St. Joseph chiropractor can help. Once we've performed the necessary medical intake and musculoskeletal evaluation to pinpoint the reason for your low back pain, we can prescribe a variety of safe, drug-free, non-invasive conservative care techniques to relieve your agony at its source.
Chiropractic adjustments are a tried-and-true method for bringing spinal components back into alignment as well as relieving joint pain and giving you back your mobility. Spinal decompression can coax herniated disc material away from nerve roots and rehydrate flattened-out bulging discs to relieve facet joint stress. Cold laser therapy, electrical muscle stimulation and ultrasound can relieve muscle spasms and promote soft tissue healing. You may even benefit from our Slimdome weight loss system if excess pounds are aggravating your low back issues.
Schedule Relief for Your Low Back Pain
Take the first step toward banishing your low back pain. Call (816) 279-0700 to schedule an evaluation from our St. Joseph chiropractor!