How Cold Laser Therapy Can Help You at St. Joseph Chiropractic
For many people, lasers are a potent symbol of the advances of modern technology to accomplish amazing goals, from microsurgery to telecommunications. So perhaps it should come as little surprise that lasers can now be used to enhance healing and relieve pain. The specific technology involved is known as low-level or "cold" laser therapy. Here at St. Joseph Chiropractic, we are happy to b able to provide this high-tech healing solution as a supplement to our chiropractic adjustment and other natural, non-surgical health and wellness options.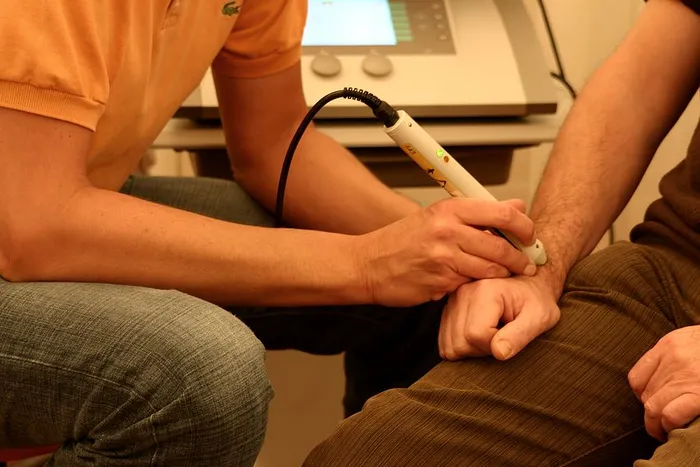 A "cold" laser is so named because it does not cut or burn the way industrial or surgical laser beams do. This type of laser operates within a wavelength range of 660 to 900 nanometers; depending on deeply the laser needs to penetrate the skin to aid the tissues beneath. The laser passes completely through the skin without producing any damage or discomfort -- in fact, you're more likely to experience a pleasantly warm tingling sensation.
As it reaches beneath the skin, the cold laser beam provides many significant benefits. In injured tissues, it stimulates the production of a substance called ATP (adenosine triphosphate), in important factor in cellular repair. The increase in ATP helps tissues rebuild themselves more quickly and effectively. The beam also stimulates vascular activity, allowing blood and lymph to flow and drain more freely at the treatment site. This helps injured of painful tissues expel inflammatory substances and gain access to more oxygen and other healing nutrients. Cold laser therapy can even help damaged or ailing nerves regain function over time, relieving nerve pain and other symptoms related to nerve dysfunction.
Cold Laser Therapy at St. Joseph Chiropractic
Our chiropractor at St. Joseph Chiropractic, Dr. Craig Mattox, frequently prescribes cold laser therapy alongside spinal adjustments, electrotherapy, soft tissue mobilization, massage therapy and other natural, drug-free treatment methods, enhancing their effects and helping you get the full benefit of our holistic approach to your condition. Cold laser therapy can also by used as a standalone treatment method. It is helpful for a wide range of health challenges, including:
Soft tissue strains and sprains
Sports injuries such as tennis elbow
Arthritis, bursitis and other causes of chronic joint pain
Fibromyalgia
Carpal tunnel syndrome
Back pain
Neuropathy
You should find your cold laser sessions at St. Joseph's Chiropractic comfortable, relaxing and highly effective the number of sessions you need will depend on the nature of your health problem. You may feel relief from acute injuries or ailments may take just 1 to 6 sessions, while longstanding chronic ailments may require more 10 or more sessions to respond fully. A typical session lasts only 5 to 15 minutes, making it easy for you to add cold laser therapy to your busy schedule.
Call St. Joseph Chiropractic Today and Ask About Our Cold Laser Therapy
Learn more about whether cold laser therapy is right for you. Call (816) 279-0700 to schedule a consultation and evaluation with our St. Joseph chiropractor!