Plantar Fasciitis and chiropractic treatment with our team in St. Joseph, MO
Many people think that plantar fasciitis only occurs in runners and other types of athletes. The truth is anyone can develop plantar fasciitis, which is a painful inflammatory condition affecting the foot. A wide range of services (all natural, all drug-free, all non-invasive) can help people find relief from their symptoms which hold them back from the activities they love.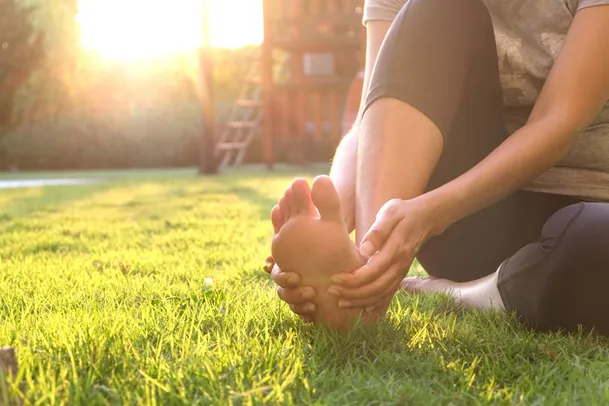 What is Plantar Fasciitis?
To understand plantar fasciitis, a bit of anatomy is helpful. The bottom of your foot is made up of a thick band of tissue called the plantar fascia. In addition to forming your arch, the plantar fascia acts like a bowstring and transmits forces through your foot and the rest of your body. Plantar fasciitis occurs when this tissue becomes inflamed and irritated.
Causes and symptoms of Plantar Fasciitis
The exact cause of plantar fasciitis isn't always clear, but it generally happens due to an over-excessive amount of stretching and pressure. Risk factors for this condition include:
Ages between 40 and 60
Obesity
Excessively high or low arches, or anything else that alters foot mechanics
Participation in sports that involve a lot of high impact movement (like running, jumping, dancing, etc.)
Occupations involving a lot of standing time (e.g., nurses, factory workers)
What's the primary symptom? It's usually sharp heel pain while weight-bearing, especially first thing in the morning. Pain usually gets worse after (not during) exercise, and can also come on after a long period of standing or upon standing after sitting for a long time.
How our chiropractor in St. Joseph can treat Plantar Fasciitis
Dr. Craig Mattox is proud to be a chiropractor in St. Joseph, MO. He offers a variety of non-invasive treatments to help you or a loved one recover from disruptive heel pain caused by plantar fasciitis:
Therapeutic ultrasound: sound waves interact with tissues to stimulate accelerated cellular healing, reduce inflammation and spasms, and alleviate pain
Cold laser therapy: similar results as ultrasound through the use of light waves rather than sound waves
Corrective exercises: stretches and exercises can improve flexibility in the ankles and improve alignment and standing tolerance
Postural correction: through a combination of ergonomics training and spinal adjustments, Dr. Mattox can help you learn how to move more efficiently and reduce strain in the feet
Kinesiotape: helps reduce pressure to the inflamed tendon and promotes circulation to the affected area
Is heel pain holding you back? Contact St. Joseph Chiropractic today!!
Looking for a chiropractor who can help you get relief from your plantar fasciitis pain? Contact St. Joseph Chiropractic at stjosephchiropractic.com or call us at (816) 279-0700 to schedule an appointment TODAY!!